Open Frame For Resistive Touch Monitor
We believe the world should be more interactive, and provide you with the best user experience possible.We believe in listening to our customers because we know that the best hardware is made through collaboration. GreenTouch's
LCD touch panel monitor
is popular with many customers for good quality and low price.Simply put, it is
durable touch screen monitor
,fast response touch monitor , HD resolution touch monitor ,high contrast ratio touch monitor,colourful touch monitor,wide angle touch monitor,the
22 inch touch screen monitor
suitable for offices, retail, restaurants, bars, gyms, warehouses.
Product Overview
GreenTouch's open frame touch display monitor delivers an perfect solution that is cost-effective for worldwide customers requiring a reliable product .Designed with reliability from the start, GreenTouch's open frames deliver outstanding image clarity and light transmission with stable, drift-free operation for accurate touch responses. Our products are available in a wide range of sizes, touch technologies and brightness, offering the versatility needed for commercial kiosk applications from self-service and gaming to industrial automation and healthcare
Our touch screen monitor brings you good quality and high reliability. We offers customers the worldwide customers with the standard one-year warranty. From product designing to producing to software developing and to product testing, all processes are handled by GreenTouch,pursuing that the product can run perfectly. All of our monitors have passed (more than 20 items) strict reliability tests.
Product Description
This 22 inch open frame touch monitor uses the most advanced LED backlight technology which can save energy and power while running and has the thick and sturdy design. The touch screen is built by GreenTouch's professional team and is stable and reliable.producing superior image clarity,resolution, transparency, good accuracy and vivid images, instantly captures and draws the attention of users.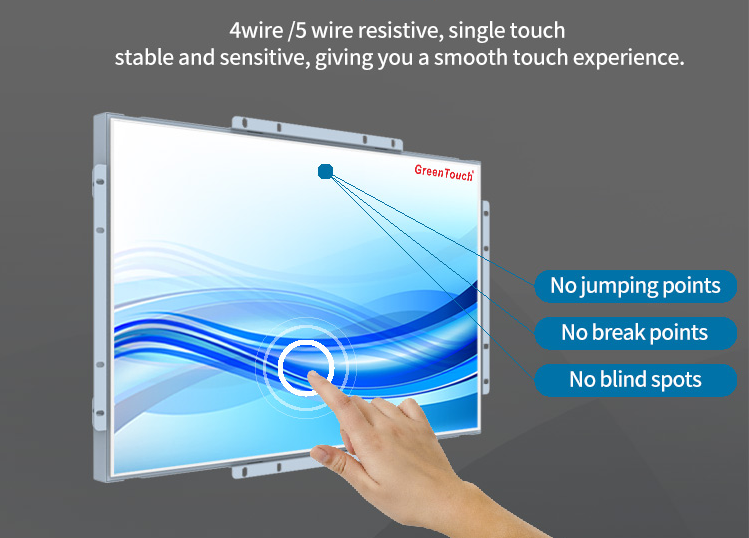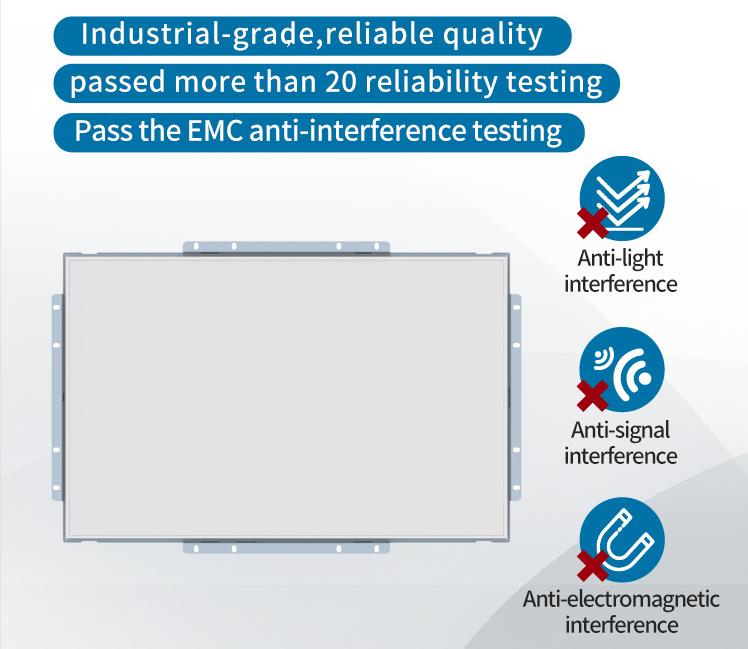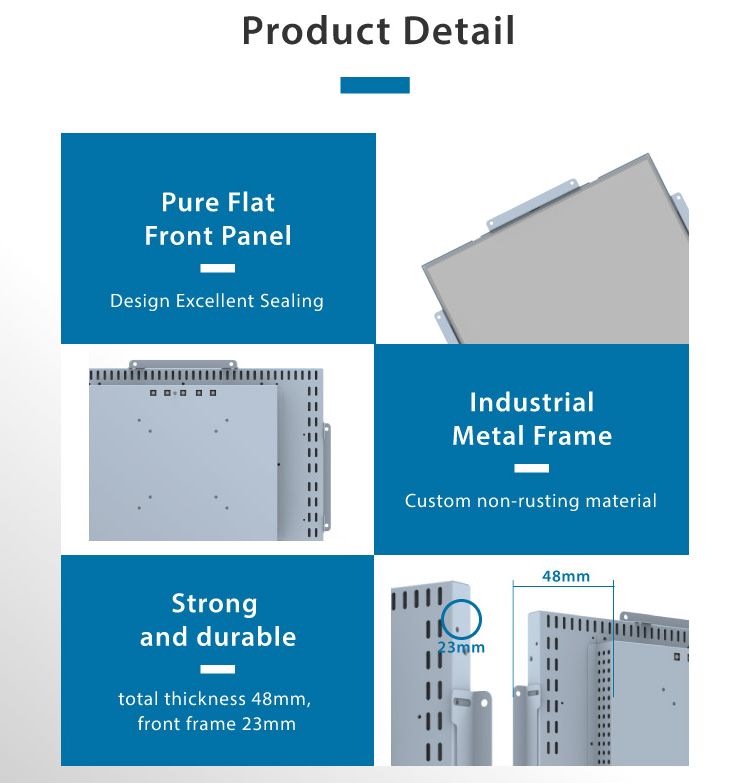 Product Features
◇ Industrial-grade,reliable quality.
◇ Pass the EMC anti-interference testing(Anti-light,Anti-signal,Anti-electromagnetic interference ).
◇ Industrial metal back shell ,porous heat dissipation design.
◇ Efficient heat dissipation.
◇ Running 24 hours a day.
◇ LED backlight 50000 hours, long life time.
◇ Save energy and power.
◇ low noise.
Product Parameters
Product Name:

Open Frame Touch Monitor

Display Ty

pe:

Active Matrix TFT LCD, LED Backlight

Diagonal Dimension:

22" diagonal

P/N:

GT-TM-2205A-4R

Display Size:

497(W) x323(H),Thickness: 50mm

Active

Area:

473.76mm(H) x 296.1mm(V)

Resolution:

16800x 1050

Dis

play Colors:

16.7M

Brightness:

250 nits

Contr

ast Ratio:

1000:1

Response Time:

5 msec

To

uch Type:

Resistive,single point

MTB

F

:

50,000 Hours

Video

Formats:

VGA ,DVI ,HDMI,DP(optional )

Vie

w Angle:

Horizontal (left / right): ± 80 ° or total 160 °

View

Angle:

Vertical (up / down): ± 70 ° or a total of 140 °

Tem

perature:

Operating: 0°C to 40°C

Te

mperature:

Storage: -20°C to 60°C

Humidity:

Operating: 20% to 80%(Non-condensing)

Humi

dity:

Storage: 10% to 90% (Non-condensing)

OSD

:

Digital OSD

Mount

ing Options:

VESA Mounting,Open Bracket Mounting

Warranty:

1 Year

Agency Ap

provals:

FCC、CE、CB、CCC、HDMI

Input Video Connector:

Female Head DE - 15 Connector,Female Head DVI - D, Dual - Link Connector,Female Head HDMI Connector.

Pow

er:

External DC,Input Voltage DC: 12V; INPUT POWER CONNECTOR SPECIFICATIONS,External DC, Input Voltage DC: 12V; INPUT POWER CONNECTOR SPECIFICATIONS,(For All in one PC) - Type: DC Cartridge Receptacle; Cartridge ID: 5.5 mm(±0.3 mm; Needle OD: 2.0 mm (+0.0 -0.1 mm); Cartridge Depth: 8.0 mm (±0.3 mm);Power Connector (On Power Adapter) - Type: DC Cartridge Plug: Cartridge OD:5.5 mm (± 0.1mm); Needle Inner Diameter: 2.1 mm (± 0.1 mm); Cartridge Length: 9.5 mm (± 0.5 mm);

User Cont

rols:

OSD Button: Menu, Up, Down, Select, Power; OSD: Contrast, Brightness,Horizontal / Vertical Bits Clock, Phase, Call Default, Language (English,German, Spanish, Japanese,French); OSD Fail / Active: Power, OSD Menu.
Engineering Drawing:GT-TM-2205A-4R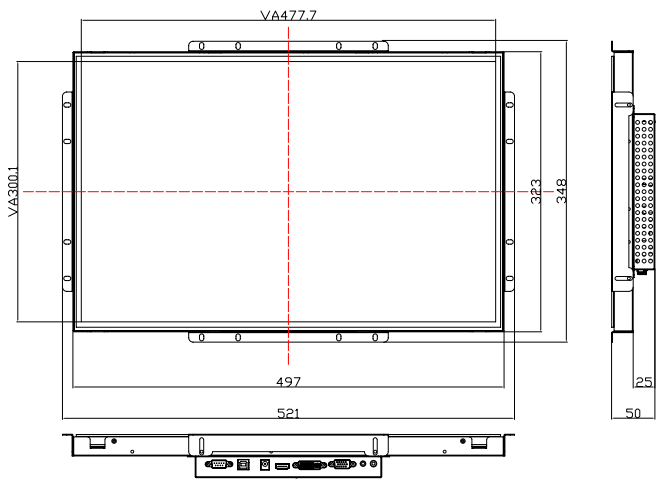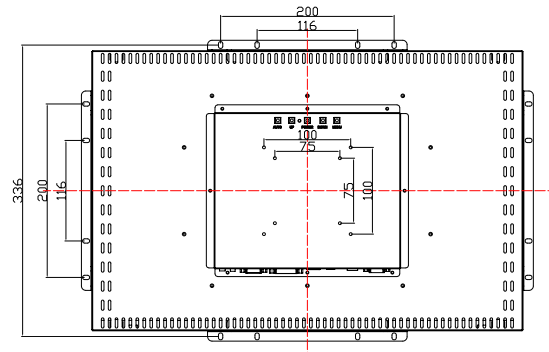 Other Show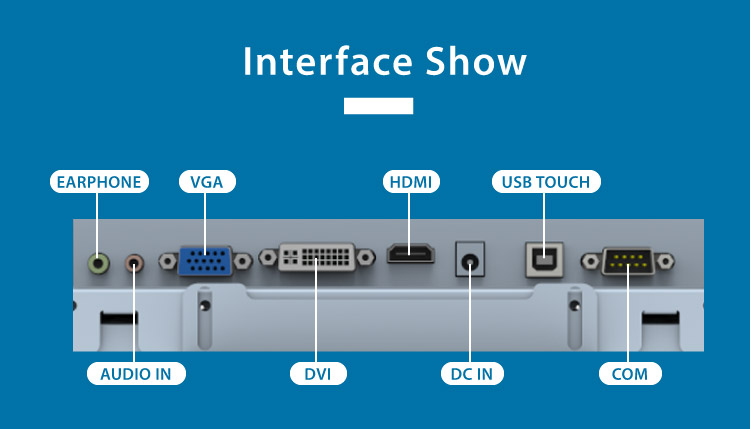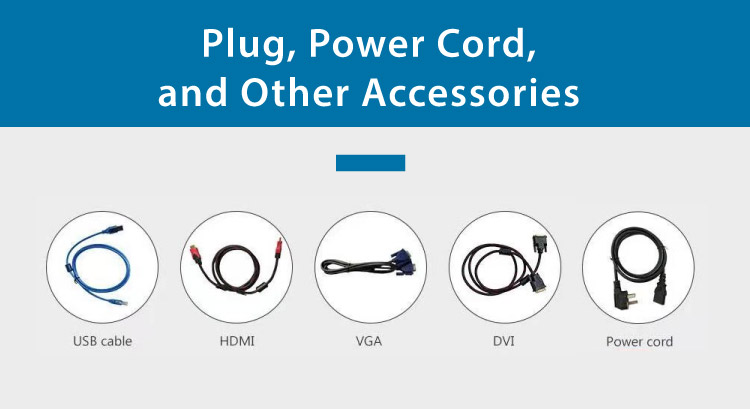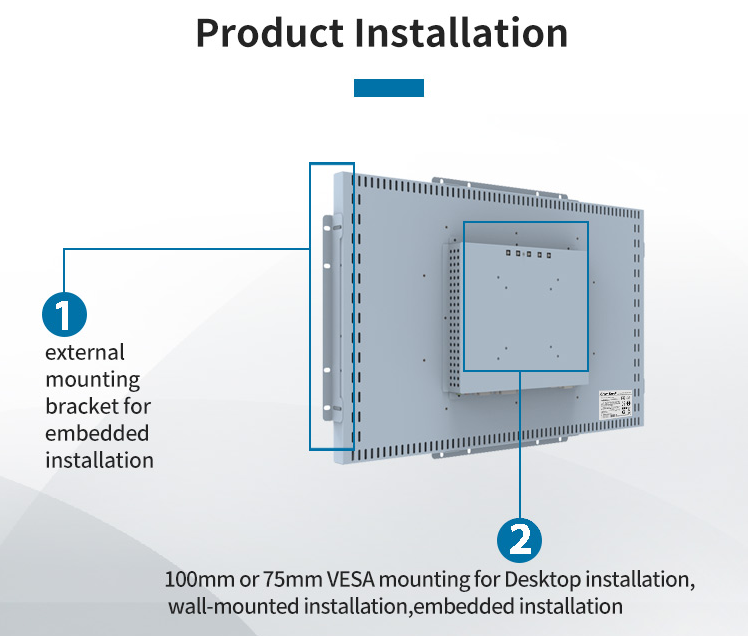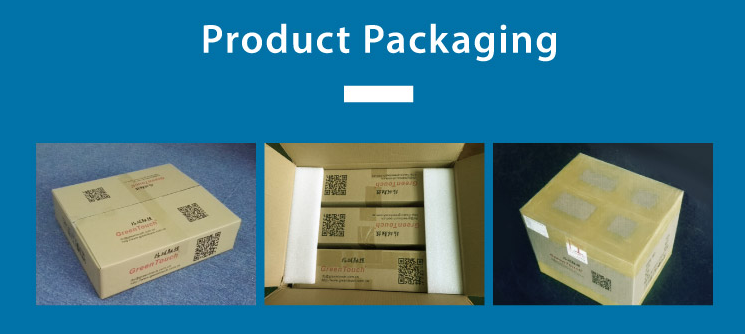 Product Customizable
GreenTouch provides a wide range of customization options to meet your requirements, including product size or structure,customer Logo,LCD panel brightness (250nits-1000nits),glass of surface treatment AG,AR,AF,display ports(optional VGA+DVI,VGA+DVI+HDMI,VGA+DVI+HDMI+DP or more).
Product Application
In a variety of industries or fields, touch screen monitor can be seen everywhere, widely use for industrial manufacturing,bank,mall,travel,traffic,hotel,fnance,school,goverment library ,etc. In order to facilitate the user self-service inquiry and industry enterprises touch system solution to provide a powerful help.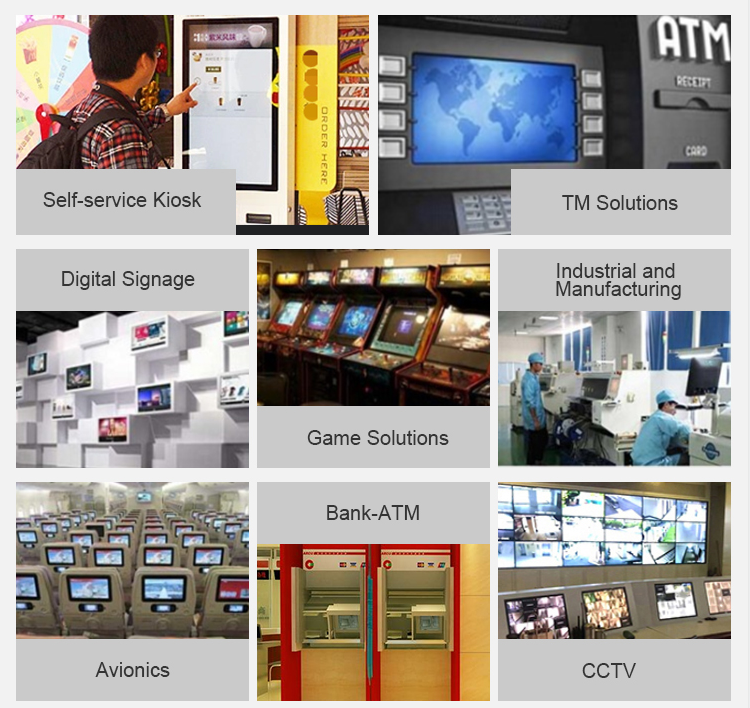 Other Products
We have our own brand -GreenTouch,already established full-automatic production line and professional sales&after-sales team.In addition to a variety of touch monitor, we also supply 4 wire resistive touch screen, 5 wire resistive touch screen,capacitive touch screen,interactive touch foil,infrared touch Frame,touch all-in-one PC and other touch products.